Zoccam.
Your Virtual Courier.
Zoccam streamlines the home buying experience by enabling the parties to securely send funds, as well as authenticate the borrower's identity. Deposit earnest money from your living room, literally!
zoccam.com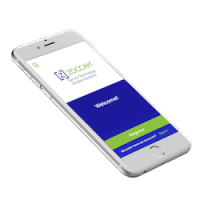 Philosophy built on integrity

Compassion for our clients

Excellence is our minimum standard

Enriching local economy, conducting business locally and employing Arizonans

Commitment to personal and professional growth
Magnus Title Agency enjoys a position in the Arizona title and escrow industry that provides the largest metropolitan residential markets with unparalleled service and title insurance products.
As the largest privately held agency in Maricopa County, the company takes pride in the fact that important decisions on each transaction have the immediate attention of an executive management staff with the authority to serve our clients in the most efficient manner to facilitate their transaction. As one of the largest issuing agencies for each of our three title insurance underwriters, Magnus Title offers title insurance products from the most financially secure companies in the country.
Our team of professionals at Magnus Title Agency wants to earn a place as a trusted partner to your business. We can say with confidence … we have what it takes to make you successful in good times and even in 'not so good' times.
Fast and accurate transaction processing performed by an experienced, skilled and committed team of Title and Escrow Officers

In-house Business Development Managers that will update and automate your marketing efforts FAST to compete at the highest level

With branches across the valley and more on the way, our team is committed to you and our combined success
We invite you to consider what you could accomplish if you played to your strengths and let us do the rest. Together we're better! #WithMagnusYouMatter
What Clients Say About Us
Can I just say, "Angela and the escrow team are on top of their game!" She answers our questions immediately or gets someone to answer them for her if she isn't available. She is more than helpful and always has additional suggestions to help our team grow and produce more. We love how she personally pops in or schedules time for us to brainstorm and assist us. Love love love her! I've never known a company to respond within minutes or seconds of us asking them a question or requesting help. Absolutely unbelievable service at Magnus Title Agency!
Shanna Day
Keller Williams East Valley
I just want to thank the Magus Title team for all they have done for the Arizona Home Group. Their marketing assistance has been invaluable, and the level of client care we get from the escrow team is unsurpassed. Thank you.
John Sposato
Arizona Home Group at Keller Williams Sonoran Living
My name is Jaime Miranda and I've been a real estate agent for 18 years. I've worked with many title companies and was blessed to meet Jason with Magnus Title Agency. Magnus Title has ensured that my customer's needs are handled efficiently and accurately throughout every transaction whether it be simple or complex. They fully disclose all closing costs and maintain the highest ethical standards in the title business. They have provided the most timely, competent and cost-effective services available. Most importantly, Magnus Title Agency has given me and my customers the peace of mind we deserve.
Jaime Miranda
Real Estate Agent
Realty One Group
In my experience, the quality of service delivered by Magnus Title is unsurpassed in the industry. Their team is professional, thorough and responsive. If a difficulty arises I can count on them to be part of the solution and not the problem. There is no challenge too big or too complicated for these professionals. Magnus Title has mastered the art of creating value for their clients by providing the resources, information and the service necessary to execute transactions efficiently. They are a pleasure to work with.
Sue Bentley
Designated Broker/Owner Coldwell Banker Bentley
Who we are in business with is one of the most important decisions that we make. The most important decision being our spouse or significant other. The second most important decision that we make, that we have control over…we can't control who our kids are, or who our parents are, is who we choose to be in business with. Magnus Title has been a great partner, takes care of our agents, and more importantly, our agent's clients. We are proud to be in business with Magnus Title.
Barry Kramer
Keller Williams Realty